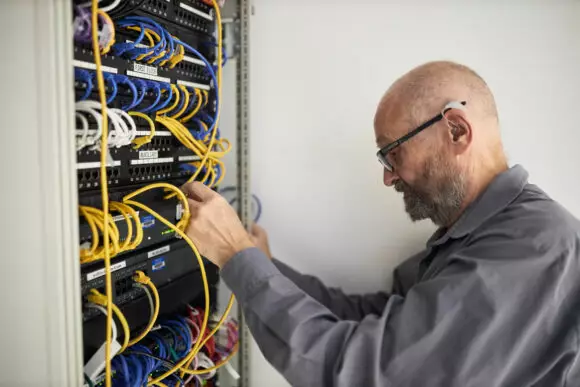 Cyber Security Solutions and Services
Keep your business safe and protect it against cyberattacks with Firstline IT's cyber security solutions
The threat of cybercrime has sky-rocketed over the last two years. In fact, according to the Cybersecurity Breaches Survey 2021, 38% of micro and small businesses identified cybersecurity breaches or attacks over 2020 to 2021, with around 27% of those businesses being attacked at least once a week. With the average cost of a security breach reaching £8,170, this threat is far from insignificant.
Unfortunately, the Covid-19 pandemic has only made cyber security a greater challenge. With resources stretched, smaller businesses and start-ups have reported not having sufficient malware protection or firewalls. On top of this, only 13% of smaller businesses train their staff on cyber security, leaving them wide open to security breaches.
We understand how difficult it can be to know where the risks are, what form they take and how to protect against them. With that in mind, we make it our goal to simplify the process of securing your business by offering you easy to understand cyber solutions and tailored security consultancy.
We will work with you to understand your IT systems and your business operations and put together a bespoke cyber security package that's right for you.
How it works
We start by getting to know your business and IT infrastructure and establishing what security systems you already have in place.
We then work with you to develop a plan to address your weak spots and security risks.
We can then offer you ongoing training and support to ensure your whole organisation stays up-to-date with the latest security measures and tactics.
Cyber security plans
Cyber Security Audit
Your cyber security audit forms the basis of our plan for improving your security. We'll visit your premises and conduct a comprehensive review of your IT support systems and processes. This covers everything from how easy it is for strangers to get into your building to the most technical encryption software on your and other devices. We will then present our findings and recommendations in plain English.

What is an IT Security Audit and how can it protect your business? >>

Cyber Security Monitoring and Detection
Our cyber security monitoring and detection service provides ongoing monitoring of your systems and endpoints to stop an attack before it takes a foothold on your network.
Because cybercriminals are constantly adapting their techniques, our ongoing cyber security monitoring will ensure we can deal with threats before they become a serious problem. Large companies usually employ a Managed Detection Resource (MDR) provider to do this, but our enterprise-level 24/7 service will do the same thing at a budget-friendly price point.
Sophos Approved Partner
Sophos is a market leader in IT security products and is used by millions of consumers and 500,000 businesses across 150 countries worldwide.
As a certified Managed Service Provider for Sophos, we will provide you with competitive pricing on some of the best security software and products on the market.
We will tailor the right package of security software to suit your needs, from Sophos XG Firewall, Sophos Intercept X with EDR or Sophos Managed Threat Response (MTR).
Staff Cyber Security Training
Staff Cyber Security Training is a vital part of any overall IT security strategy, making sure the right policies are in place and staff know what to do and look out for in the face of a potential threat.
We will provide training that's tailored to the level of knowledge of your teams, to ensure your staff know how to spot phishing emails and follow security software updates to minimise the risk of unintentional breaches. We can also track behaviour over time and identify members of your team who may need extra support.
Want to keep your business secured? Schedule a free consultation and we will help you
[grw id="6755″]
Why choose Firstline IT Oxford for your cyber security solution?
You will get an expert service
Not only will you be working with a team of experts at Firstline IT, but we are also a Sophos approved partner. This means we can offer a range of market-leading security products to secure your systems and network.
You will receive a bespoke security service
We don't approach cyber security as a one size fits all service. We spend the time to get to know your business, your critical IT systems, how you operate and what your teams do on a day-to-day basis. That way we can tailor our advice to your business and build an action plan that makes sense to your priorities and budget.
You will stay protected against cyber attacks before they become a problem
By proactively monitoring your systems and endpoints we can spot potential breaches and react before they take root, isolating compromised devices on the network to prevent malware from spreading. Well-trained and knowledgeable staff are key to prevention and we can help ensure your teams are that extra line of defence.
You will benefit from IT security peace of mind
Small businesses are just as much, if not more, at risk of cyber security attacks as large enterprises, but are often less equipped to deal with the fall-out.
Firstline's comprehensive cyber security services are specifically designed with SMEs in mind and are costed accordingly. By handing over your cyber security to Firstline experts, you will have the peace of mind that your systems and networks are being protected, freeing you up to focus on your business.
Get in Touch for a Free conslutation