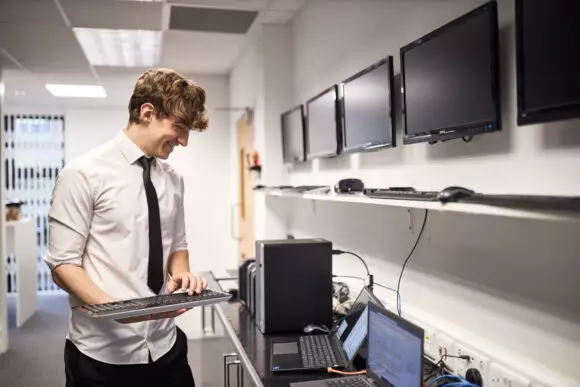 IT Asset Management
Focus on running your business while Firstline manages your hardware and software
Keeping track of your team's equipment and software can be a time-consuming task.
Older, slower PCs can impact performance and efficiency, so keeping on top of your IT inventory management is important for your overall productivity.
In addition, keeping your software licencing up to date minimises the security risk from unpatched and out of date software on your network.
How it works
When it is time to replace your equipment, our relationship with all the major IT suppliers means we can offer competitive pricing and a prompt turnaround. Our team of highly experienced IT support engineers will take care of the configuration and installation for you, ensuring your teams can just plugin and get working.
At the end of your equipment's life, we'll make sure that removal and disposal are as hassle-free as they can be. We follow strict data wiping and removal protocols, ensuring any and all company data and information is removed. We only work with certified and approved partners, ensuring kit is recycled wherever possible.
What's included in our IT hardware services?
Our excellent relationships with all the major IT suppliers means we can get you the best prices and even better, you only have to deal with us, so no more chasing multiple quotes and comparing specifications.
Sourcing of a competitive priced product that meets the needs of your business
Complete management of the successful roll out of the software for your business
We keep track of the age and licensing of your hardware and software
Recommendations for when you should consider replacement and renewals
Taking care of your equipment when it reaches the end of its life cycle with you
For a free consultation with one of our experts about your IT assets
[grw id="6755″]
Why you should outsource your IT Asset Management to Firstline IT
We take care of installation and configuration
With new equipment, it's never as easy as just switching on and getting to work. We set up every piece of kit for you so that it communicates properly with your network and does what you expect it to.
We help you plan for the future and manage your budget
We'll work with you to anticipate hardware and software upgrades, giving you full control of how you budget for the future.
We'll dispose of obsolete IT equipment
We work with reputable and certified partners to ensure your IT equipment is disposed of both efficiently and in as environmentally-friendly way as possible. We also work with charities to donate older but still usable equipment to schools overseas.
We follow strict data removal policies and guidelines to ensure all equipment is properly wiped in line with the Data Protection Act.
We keep your systems safe from security risks
Software manufacturers stop supporting older versions of software, so if your licensing is out-of-date, you run the risk of opening your business to cyber threats. Keeping track of multiple software licences across your teams can be complicated and time-consuming. We can take care of this for you and ensure your software is up-to-date and supported, keeping you secure.
Related services
Essential Support
IT support contract designed for smaller, budget-conscious organisations that want rapid-response access to a wide range of services, but don't want to compromise on quality.
Active Maintenance
IT maintenance contract designed for organisations without expert in-house IT support in Oxford. Fixed IT support costs a quick response to IT issues.
Managed Hosting Services
We can design, build and manage your business network, incorporate any number of applications and software packages, host and monitor all from our very own data centre in Oxford.
Get in Touch