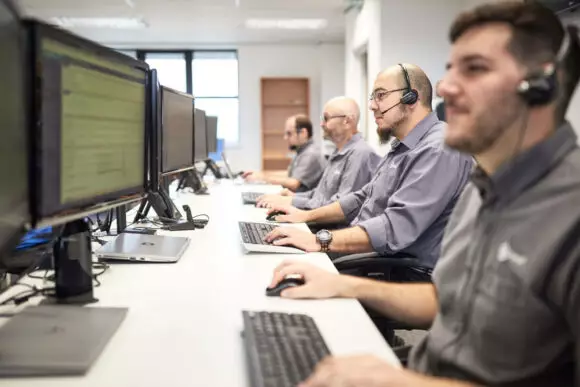 Fast & Responsive IT Help Desk for Businesses
Our Oxford IT help desk team will resolve your IT issues quickly and minimise costly downtime for your business.
We know that when a business experiences an IT issue it needs resolving quickly to minimise downtime and keep the wheels in motion.
Our IT help desk is your first port of call when you have a problem, and we'll deal with it as quickly and efficiently as possible. We will explain what the problem is in plain English, what we plan to do and, lastly, what we've done to resolve it. Whatever IT support plan you're on, you'll receive our full attention whenever you contact us.
How it works
We use FootPrints, a web-based service management application, to log and keep track of your IT problem. When you log an issue with us, we can provide you with client access so you can monitor our progress and, if necessary, track multiple tickets across your teams.
We work against challenging but manageable Service Level Agreements to ensure you understand how quickly we will respond to and resolve your problem.
Unlike most IT help desks, we commit to a resolution time SLA. That time is dependent on the severity of your problem, but we have a 95% resolution SLA success rate.
Get the most appropriate technical IT advice for your business
[grw id="6755″]
Why use Firstline IT help desk?
You'll get scalable value for money
From the outset, we work with you to ensure you're on the right contract to suit your needs and budget. You can choose a fixed monthly fee or a flexible price plan within your control, and you only pay for what you receive.
This means that you're fully in control of your spend and can scale your IT support requirements as your business grows.
You'll get an efficient response
We follow the ITIL international best-practice framework for IT support businesses and have invested in web-based service management tools and remote access software. With Service Level Agreements and transparent reporting, you can rest assured your IT support is in safe hands.
You'll get a prompt resolution to your IT challenges
Our Oxford IT helpdesk support teams work collaboratively, escalating more complex issues through 2nd and 3rd line IT support seamlessly. This means you will always receive high quality and innovative thinking to resolve your problem, at an SLA-bound response time.
We're a friendly and expert IT support team
Our IT help desk team is second to none. Our IT engineers spend time getting to know your business and staff so we can give you a service that is personal and responsive. With many years combined experience between them, our help desk team are experts and constantly learning to improve their skills to keep up to date with the latest developments
Related Oxford IT Services – Technical and General IT Support
Essential Support
IT support contract designed for smaller, budget-conscious organisations that want rapid-response access to a wide range of services, but don't want to compromise on quality.
Active Maintenance
IT maintenance contract designed for organisations without expert in-house IT support in Oxford. Fixed IT support costs a quick response to IT issues.
Strategic Partnership
Our total solution contract designed for larger organisations who have some degree of internal IT resource already, where we operate as a virtual IT director and manage all IT and telecoms on your behalf.
Get in Touch