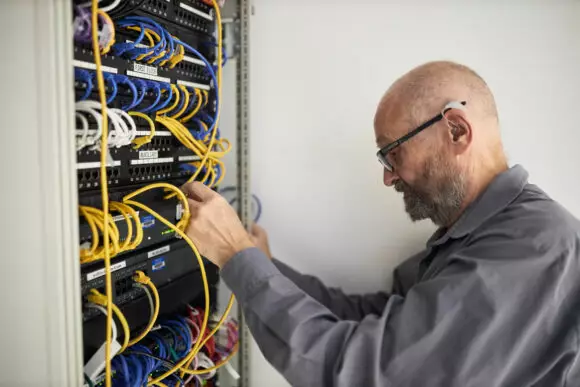 Stress free IT Relocation Services
What does IT Relocation include?
Moving offices can be stressful, with multiple moving parts to juggle and plenty to keep you busy. Let us take the stress out of the IT and telecoms relocation.
Liaising with the broadband and telecoms providers to make sure the right lines are in place at the right time
Creation of a detailed plan, so you know exactly what to expect
Advising on premises you might be considering, making a site visit and assessment
[grw id="6755″]
Ensuring successful office moves
One fully-integrated IT relocation project plan
Because we can manage your business' IT systems and telecoms, we can make sure that every part of your relocation happens without a glitch. We'll make sure the right lines are in place at the right time and everything is running smoothly for move day.
Minimising risk of downtime
We'll work really closely with you through the project. Moving offices is a big commitment and you'll want to minimise any risk of downtime. We keep you abreast of the plan, so you always know what's going on, so that on move day, you and your teams can get going straight away.
Experienced movers
We've helped many clients relocate. Our engineers have lots of experience handling the challenges of even the most complex moves.
Transparency through your IT relocation
Relocating your IT and telecoms as part of an office move doesn't have to be stressful. We've helped many clients relocate and can help take the stress out of your move. Our engineers will work with you to pull together a detailed plan. We can even start working with you before you've chosen new premises to provide expert advice on location, connectivity, cabling and power requirements and implications.
Our commitment is to deliver, on time, every time. Even if sometimes that means going to plan B or C. By taking care of both your IT and telecoms as part of the move, you only have to liaise with us, we'll take care of everyone else to make sure all the right lines are in place at the right time.
Related services
Active Maintenance
IT maintenance contract designed for organisations without expert in-house IT support in Oxford. Fixed IT support costs a quick response to IT issues.
IT Disaster Recovery Planning
We work with you to build resilience into your IT systems, so that you can keep working through fire or flood, and recover quickly from any sort of disaster.
Cyber Security Audit
Our IT cyber security audits will assess your current security posture and give you the right information and recommendations to make the best IT security decisions for your business.