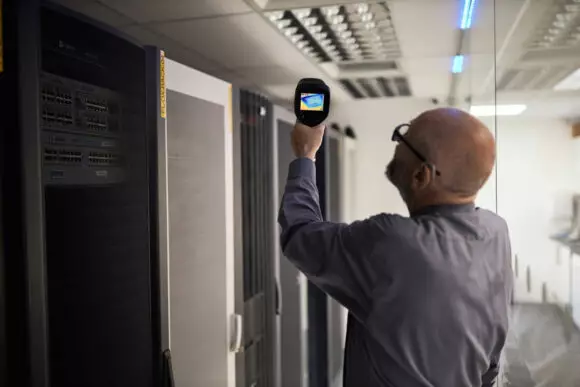 Managed Hosting Services
Local Oxford experts for providing managed hosting solutions for your business.
If your business needs to host your first server, or you're looking to migrate your entire network and infrastructure from another provider, we will help you manage the process.
Offering co-location services in Oxford, Firstline IT has the capacity for 80 servers and firewalls, with managed power and connectivity to suit all budgets. We can provide backup of your servers to an off site data centre if required.
Our server capacity coupled with our on-site expertise means you'll receive a personal, high-quality hosting experience.
How it works
We'll start by helping you identify your hosting requirements and, whether you are starting from scratch or migrating from another hosting solution, we'll take care of all aspects of your installation and configuration.
Once up and running with us, we'll monitor and manage your network 24/7, including:
Rental of a single unit of space
Rental of both the space and servers
Virtual server hosting
24/7 monitoring to reduce downtime
For a free consulation with one of our experts about your managed hosting
[grw id="6755″]
Why use Firstline IT for your Managed Hosting Services?
Peace of mind with our 24/7 monitoring
Our sophisticated monitoring systems alert us to any glitches in the network and we can usually solve any problems before you have even noticed them.
Keep your email and data safe and secure
We stay up to date with potential security issues and work with you to make sure your network is as safe as possible.
Affordable co-location hosting
Offering co-location services in Oxford, you can rent a single unit of space, rent both the space and servers or we can host a virtual server for you. We can host your server and other systems at a competitive rate in our own data centre in Oxford which has space for over 80 physical servers and firewalls.
Rest assured we have your systems covered
All our customers' hosted services can be backed up in another off-site data centre as agreed,  providing additional security in the event of an Oxford-wide disaster.
Related services
Active Maintenance
IT maintenance contract designed for organisations without expert in-house IT support in Oxford. Fixed IT support costs a quick response to IT issues.
IT Disaster Recovery Planning
We work with you to build resilience into your IT systems, so that you can keep working through fire or flood, and recover quickly from any sort of disaster.
Cyber Security Audit
Our IT cyber security audits will assess your current security posture and give you the right information and recommendations to make the best IT security decisions for your business.
Get in Touch