Common IT terminology explained
Cutting through technical IT terminology and jargon is something that we pride ourselves on within our customer service. You should understand the service you are receiving. This is why we have put together a glossary of technical terms to help you understand key terms related to your IT support packages.
Anti-virus and anti-ransomware software
Anti-viral software protects a computer network or a lone device from unwanted external attacks and breaches of data security. It is one of the main lines of defence against hacking and is an essential part of any cyber security measures you might put in place. Since anti-virus software is used as an umbrella term by many in the IT industry, it also includes protection from other cyber threats, not just viruses. For example, well-known anti-viral systems, like Sophos, offer protection against keylogging which might collect data as you enter passwords. You can also get protection against so-called Trojan horses which are effectively viruses disguised as something benign to get you to click on them. Some involve security against spyware and other malicious bits of code that can work their way onto computers.
Importantly, anti-ransomware software is a part of some – but not all – anti-virus systems on the market. Anti-ransomware is software is designed to prevent a third-party from gaining control of some or all of the processes on your computer which might give them the opportunity to extort money from you to return them. As such, it tends to need frequent updates.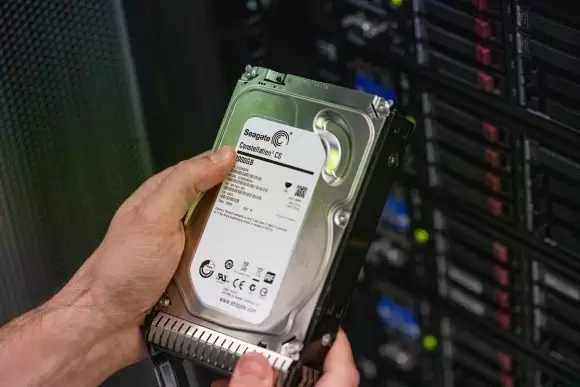 In the context of IT, backup processes are the methods you use to store data in more than one place so that you are able to get at it should your usual system fail. Simply put, a back up process is the means by which you create a copy of your important commercial data and digital records. There are a number of ways to achieve this, whether you choose to use a manual or an automated approach. Back up processes are very important from a commercial point of view because corrupted data could cost thousands of pounds – and even more – to restore if no back up has been made in the recent past. The longer the period that exists between back ups having been processed, the more data you may need to re-enter as a result. Therefore, a frequently conducted back up process is preferable to one that is only carried out from time to time.
Although some home computer users may have a basic back up process that helps to ensure their device's data is saved somewhere other than its own hard drive, a more comprehensive system is often needed for business. This is because, the data stored on all of your server equipment may need to be backed up independently from one another. For example, your financial records might need to be kept separately from your customer database for security reasons. As such, your approach to back up processes may differ depending on your firm's particular requirements.
Business internet connections and connectivity
The world is increasingly connected in a business sense. Right across the globe, enterprises are making use of the greater connectivity that modern internet-based telecommunications afford. Therefore, connectivity, especially digital connectivity, is important to nearly all businesses which wish to reach a growing market and to promote themselves on the regional, national and international stages. Business connectivity may mean having a sound internet connection that can accommodate the sort of services that your enterprise may want to take advantage of. However, it is not merely your headquarters that require good internet coverage but all of your staff members, whether they are in the office, working from home or on the road.
In layman's terms, cloud computing simply refers to computer processes that rely on the internet in some way rather than employing a stand-alone model. Cloud computing has been around ever since the use of the internet became widespread in commercial settings. Anything from owning a Gmail account to setting up a hosted website should be considered cloud computing. For businesses, it offers plenty of cost-saving benefits but there are also security issues to take on board.
When you store data from your device on a third-party server, then you are making use of cloud computing. For example, if your smartphone backs up your photos to an account you have, then you would be able to recover them even if you lost your phone or damaged it in some way. The same goes for commercial cloud computing, only usually on a much grander scale. With cloud computing applications, you can store all of your company's financial records off-site without the need for your own dedicated bookkeeping server, for example. There again, you could run all of your business email accounts from a third-party service so that no physical storage system needs to be installed at your offices. Storing data of any kind that is held on a third-party computer is said to be in the cloud. Access to it is usually controlled by an authentication process which may be a simple as entering your login details and a password. Some cloud services require a two factor authentication process to be gone through. Cloud computing makes sharing data very convenient and entire projects can be run in the cloud with contributors all accessing and updating the same information from multiple workplaces around the globe.
Cloud Computing for businesses
Cloud computing offers an economy of scale because so many businesses and individuals from around the world make use of it. Often highly secure, you also tend to benefit from the fact that experts are in place to safeguard your data rather than needing to set up and pay for local cyber security measures. That said, there are some compliance issues with certain cloud computing applications especially where potentially sensitive data is being stored. After all, utilising a cloud computing service that holds your customer's records in an overseas facility may mean a potential data breach beyond your control could occur.
Cloud computing is set up as an on-demand service so you should be able to access the information you need day or night. If the server that your data is stored on happens to be out of action for a while, then most professional cloud computing service providers will allow you to access it from another server temporarily. Usually, this runs seamlessly without you even realising there has been any change. It is worth bearing in mind that public cloud services are very different from private ones. The latter is suited to business use whereas the former is not.
Cyber security is an umbrella term which refers to a wide range of processes that go on to prevent breaches of digital security and, in layman's terms, hacks. Businesses require sound cyber security measures these days in order to comply with UK law and European regulations, specifically GDPR. That said, cyber security needs to be taken seriously by all business enterprises, not merely to meet their statutory duties but to protect themselves from both petty commercial nuisances and organised crime.
Why is cyber security important in a commercial context?
As well as the disruption even a partially successful cyber attack could have on your business, suffering one can do untold damage to a brand's reputation. If your business gains some notoriety in its sector for being lax with cyber security, then customers will understandably look elsewhere, especially if they share commercially sensitive information with you.
You can find more information about our cyber security services.
In order to establish how resilient an organisation is to a potential attack on its network, a cyber security audit is often carried out. Looking into every aspect of a company's computing capability, an audit of this type will look into all of the relevant processes and daily activities in order to identify potential areas where problems could occur and to detect weaknesses which are already in place. As such, a cyber security audit will allow companies to protect themselves and to take countermeasures which will allow for any problematic situation to be recoverable.
You can find more information about our cyber security audits.
Managed detection and response
Unlike a cyber security audit, which takes a one-off snapshot of your current IT security measures, a service that provides managed detection and response to cyber threats is there to provide protection from a range of digital problems on a daily basis. In fact, cyber security managed detection and response services will often operate on a 24/7 basis every day of the year. Essentially, such a service is there to offer business owners complete peace of mind that their network infrastructure remains resilient against potential threats and that an immediate notification will be generated if there is an attempted breach.
You can find more information about our managed detection and response service.
A key part of any cyber security system, a firewall sits between your local network of computers and the outside world. As such, any data traffic that passes from the outside to your servers and computer terminals via the internet must go through a firewall if your network is to remain protected from potential threats.
How does a firewall work?
In layman's terms, a firewall monitors both incoming and outgoing data passing from a network to ensure that malware cannot pass through. You will find that firewalls are available in the form of both hardware and software. When data is passing back and forth from a trusted device or network, then the firewall will allow it to continue. On the other hand, as soon as a firewall detects something that it does not recognise or that it believes is an untrustworthy source, it will prevent it from communicating. A firewall will prevent your employees from visiting certain websites, acting as a gatekeeper which controls access to your network, allowing a connection if it is safe and preventing it if it is not.
The General Data Protection Regulations (GDPR) are a set of legal rules that came about as a result of a directive of the European Union. GDPR came into effect in May 2018 across the whole of the EU and the regulations passed into UK law at this time. It is relevant for any business which operates in the UK and which has digital data of any kind. Crucially, GDPR regulations will continue to apply even after the UK leaves the EU unless a specific change to UK statute law goes on to override it. As such, nearly every organisation in the UK must take its responsibilities under GDPR seriously or face the prospect of high fines for non-compliance.
Find out more about how your business' stored data could be affected by GDPR.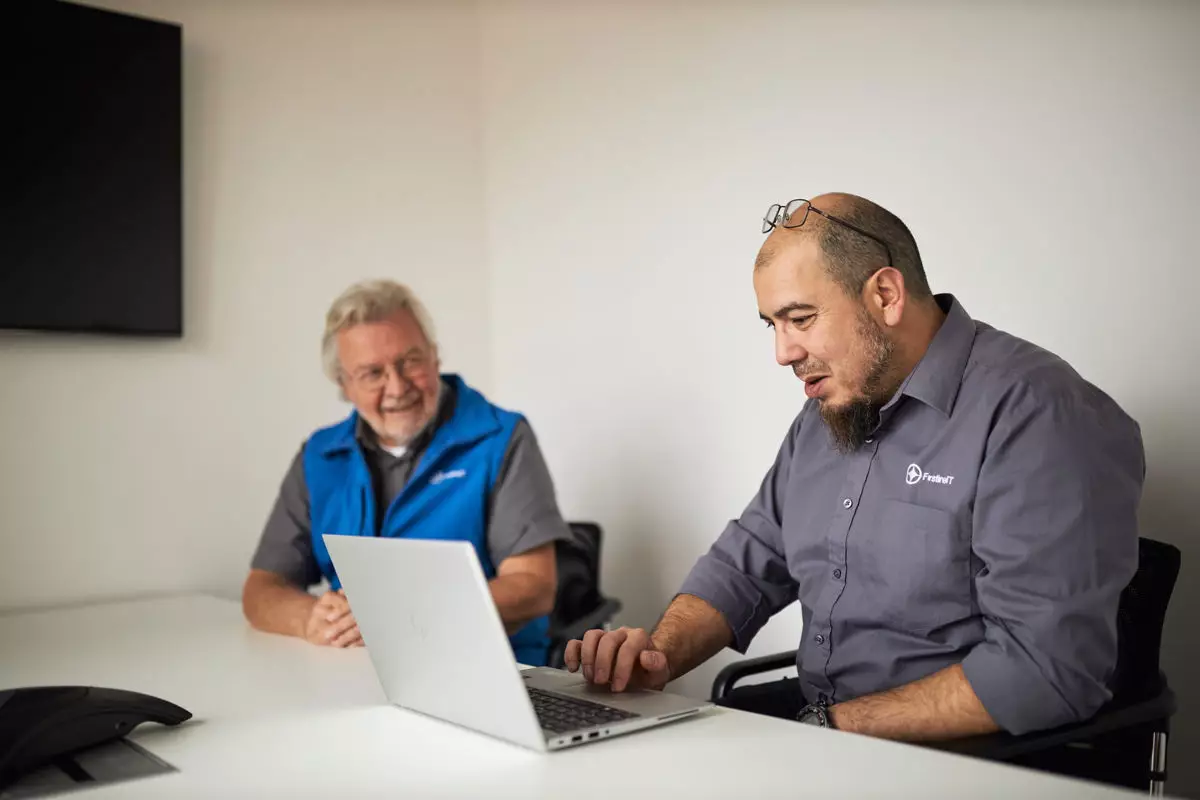 Also known as IT inventory management, IT asset management is a business practice which helps to manage the life cycle and financial aspects of a company's computing equipment. It establishes the value of a range of IT assets, both hardware and software, which aims to make decision making over future investments in your IT infrastructure better informed.
Find out more about IT asset management.
IT disaster recovery & business continuity
Two related practices, IT disaster recovery and business continuity often come under the same heading because they both deal with an organisation's ability to cope with an adverse business event. In many business situations, IT disaster recovery and business continuity can be thought of as virtually the same thing. If you want to ensure that your enterprise has the ability to deal with a potential threat to its normal working practice from the point of view of your computer network, then you need to take IT disaster recovery and business continuity seriously.
Find out more about IT disaster recovery & business continuity.
Networks of computers require an infrastructure to run properly with one another. In most businesses, there is at least some IT infrastructure which comprises part of the IT assets of any organisation. No single thing makes up your enterprise's IT infrastructure – it is a combination of hardware, software, peripherals and even IT support services, in some cases.
What does IT infrastructure do?
For your IT infrastructure to be effective it must operate in a way that makes all the respective components of a network function together. As such, you can view your IT infrastructure as your network itself. Typically, businesses will have a number of computer terminals that communicate with one another via servers. All of the monitors, keyboards, mice and other user-controlled items are part of the infrastructure as well as the computers themselves. Then, there is the cabling and wireless communication equipment – such as a WiFi hub, for example – to consider as a part of the infrastructure, too. Other common pieces of IT infrastructure include switching gear, routers, patch cables, cooling equipment, server racks and patch bays, to name but a few. What all of this infrastructure adds up to is a fast flowing network of computers which can share and access centrally stored data within moments.
Planning IT infrastructure for your business
Although it is easy to think about IT infrastructure as the physical equipment that allows you to connect different bits of IT equipment with one another, there is more to it than that. For example, a firewall is often considered to be a part of a business' IT infrastructure, but are only one aspect
Your IT infrastructure is there to provide a stable platform for data communications and inspecting it regularly is advisable to ensure that you are getting the best out of yours.
Well-maintained IT infrastructure that is doing the job it was designed for will minimise disruption. If a part of your IT infrastructure is incompatible, out of date or simply malfunctioning, then your entire network could slow down, as a result of clashes caused by simultaneously transmitted data.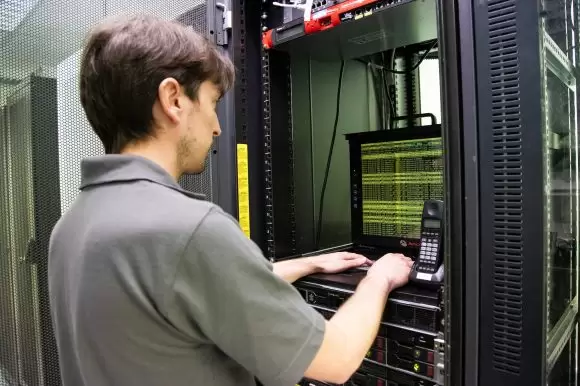 Managed hosting solutions
Any business that requires servers in order to operate a network of computer terminals can purchase their own and have them installed at their offices. However, it is also possible to opt for a managed hosting solution instead whereby your server equipment is rented at a site elsewhere. As such, managed hosting is usually a preferred IT provisioning model for enterprises with changing requirements or which need an off-site facility for the purposes of disaster recovery planning.
Find out more about managed hosting solutions.
Mobile IT is the ability to provide the same sorts of services you would be able to run on a computer connected to your network in the office but on a mobile device. The ability to integrate your main IT business services with mobile technology is becoming more and more important to SMEs as well as large multinationals. Essentially, a mobile IT system works in much the same way as a conventional network but with additional provisions for the sort of connection that will be made and the type of device that will be used. Because your company's network already probably uses the same data communications protocol as the internet, it is possible to have devices 'talk' to one another even if they are on the other side of the planet. When a connection is made from the outside world to your network, it will need to come in via your internet connection. Companies that run multiple connections to external devices may need to augment their broadband capabilities to cope with this sort of service. In addition to the connection that is made, your firm's firewall will need to be configured to allow data to pass back and forth with mobile devices. So long as a connection has been established, it is then also usual to set up a virtual private network (VPN) between the remote device and your servers. Essentially, this is a security measure that stops your private data being spied on as it is passed over a public network, like the internet. A VPN achieves the necessary privacy by encrypting your data for you before it flows out. It is subsequently unencrypted by the VPN when it arrives on the mobile device concerned.
Using mobile IT for your business
Mobile IT is much more than allowing a connection to be made to your network from a remote device. It will also often involve data passing over different sorts of IT infrastructure. For example, a VPN may be established over a remote worker's home broadband connection but it could also come from an insecure local network, such as one that might be found in a hotel. In such cases, additional security controls may be required. Remote employees may want to access your network to file reports and so on from the field. This may mean you need to enable the capability for connections to be made over the mobile phone network.
As well as your own staff, some business owners will want to provide services to customers via mobile IT. For example, you could have an interactive chatbot on your website that offers post-sales technical assistance 24/7. If so, then your mobile IT infrastructure will need to cope with a wide range of different devices from laptop PCs and Macs to Android tablets and iPhones. Ensuring that your mobile IT infrastructure is optimised for all such devices is essential to provide a high-quality user experience.
An integrated set of programs and apps, Office 365 is a Microsoft offering which many businesses in the UK use to undertake the majority of their day to day functions. Very well-known Office programs are available via Office 365, with Word, PowerPoint and Excel being among the biggest names. The name of Office 365 comes from the fact that it is usually purchased on a subscription basis that lasts a calendar year.
Find out more about Office 365.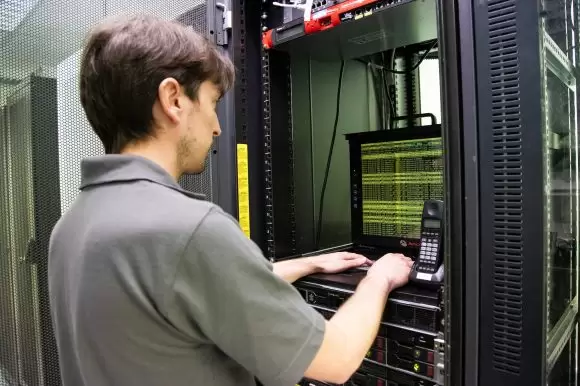 Simply put, a server is a computer which provides services to others. In fact, any computer can act as a server so long as it can be networked with others. That said, most server equipment is highly specialised these days due to the fact that it will play a particularly important role in a network and the wider IT infrastructure of any business.
A server sends and receives data communications which it transmits over a network where short data messages, known as packets, should be received by the device that it is intended for. Often, a switch or router is used to actually transmit the data from the server over the network – the server merely initiates the communication. A good example of this would be an email server. The computer in question receives a message for an intended recipient and forwards it on to the relevant user on whichever computer terminal he or she happens to be logged in at.
Other servers operate in a similar fashion even if they are not processing emails. Web servers, for example, provide online services, such as hosting your website or running chatbots to communicate with clients. An application server might be used to provide a particular service to several computer terminals that are accessing it simultaneously. This could be anything from a customer database to a computer-aided design piece of software, to offer just two examples. There again, you might have a file server where all of your company's important digital documents are stored and shared, a bit like the computer network equivalent of a library.
What should you consider when purchasing servers for your business?
Server equipment often means budgeting for significant outlay so you should also look into managed hosting solutions which provide the same sorts of servers on different procurement model, as an alternative. Basically, this means renting space on a third-party server and accessing its services via the internet. If purchasing your own server, the main considerations to weigh up in your purchasing decision will be the level of security your server affords, it central processor's speed, its memory capacity and its input and output resilience.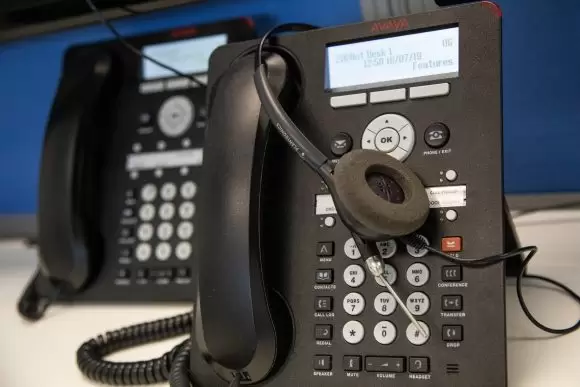 Simply put, VOIP stands for voice over internet protocol. Essentially, internet protocol is the means by which all manner of IT equipment communicates, whether it is over a local business network or the internet. As such, VOIP allows you to use conventional IT infrastructure to provide voice-based communications rather than usual business telephony equipment.