Hosted VOIP Phone Systems
With our hosted VOIP telephone systems you can say goodbye to piles of cables and outdated telephones. With a VOIP telephone system you can stay connected with customers and colleagues at all times, whether in the office, at home, or using your mobiles.
What are Hosted VOIP Phone Systems?
A VOIP call from one location to another is made from a networked device to a second one. The call is handled by a VOIP server which sit between the two. Just like when two networked devices are sending purely data communications back and forth, a VOIP connection does the same only the bits of data that are being transmitted are managed in such a way that they can be turned into audio.
Our service includes:
Managed and maintained by us to keep you connected
Full set up and installation so you are ready to go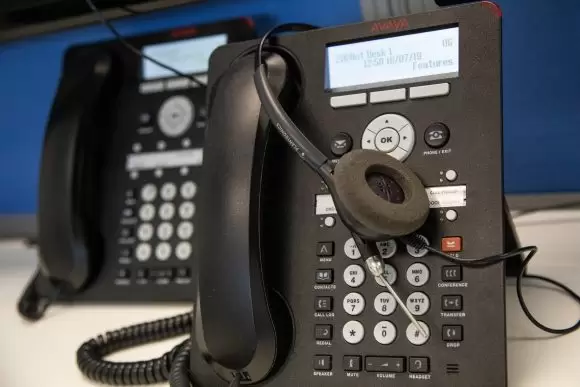 Stay connected seamlessly
Reliable and secure
With 99.9% uptime guaranteed through our SLA and built in business continuity and disaster recovery with call re-routing you can be confident that if disaster should strike, the hosted phone systems supporting your business can keep operating.
One bill, one point of contact
As a supplier of both telecoms and IT solutions, you can benefit from one point of contact for your VOIP telephone systems and broadband, as well as IT support and managed services. You'll save money on engineer visits and time as we'll cover everything we can in one visit.
Fully backed up and secure
Our data centre employs state of the art security and back up processes so you can be confident that if disaster should strike, the hosted phone systems supporting your business can keep operating.
Want to discuss your organisation's needs?
Fill in your details to request a callback, and one of our experts will be in touch to discuss your bespoke VOIP phone system solution.
Related services
Managed Hosting Services
We can design, build and manage your business network, incorporate any number of applications and software packages, host and monitor all from our very own data centre in Oxford.
Business WiFi
We provide guaranteed, non-contended optical-fibre internet connections at speeds of between 1Mb and 1 Gb. You can also choose from our range of dependable and cost-effective broadband solutions for small and medium-sized businesses.
Cyber Security Audit
Our IT cyber security audits will assess your current security posture and give you the right information and recommendations to make the best IT security decisions for your business.
Improve productivity and save costs
By 2025, BT is planning to switch off both the ISDN network and the outdated public switched telephone network (PTSN) with a gradual phase out of older systems starting as early as 2020. The move to an entirely IP (Internet Protocol) based model of voice communication means that businesses still using an ISDN connection will be forced to make the upgrade to IP based services.
Switching to VoIP phone systems provides an ideal opportunity to ensure you are getting the best deal, and features and services for your business to boost productivity and be at the forefront of communications technology for the future.
At Firstline IT, we understand all the different providers involved and how the process fits together. We have moved many clients over to VoIP telephony systems so we understand how to manage the process and minimise business disruption. We also understand that you need reliable and secure telecoms services with the latest features at the best price for your business.
We manage all our services in-house, from ordering, progress and account management to training your staff and dealing with faults. We want your connections and the changeover to be fast, clear and trouble free.