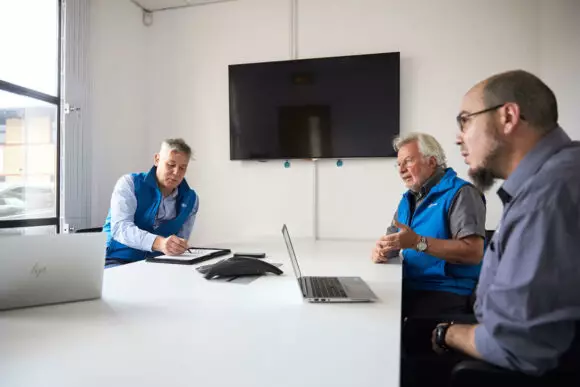 Strategic Partnership Service
Oxford-based bespoke managed IT service to help you achieve your business goals.
What's included in our Business IT Support Partnership Service?
Our Strategic Partnership plan is our premium option for businesses that require the input of an IT director but wish to avoid the cost of hiring a full-time in-house resource. Firstline IT Oxford will take the responsibility of planning and monitoring your IT systems, introducing you to the full range of technologies available to you, and helping you navigate the options that will best suit your need and budget.
It's a joint relationship, which means we work with you to find a fully-tailored package of support, advice and future planning to complement your specific business goals.
We work with businesses of all sizes who have:
● A heightened need for security
● Complex data management needs
● A need to migrate to the Cloud
● A desire for a locally-based capacity for hosting
● A need for the benefits of an IT director without the financial commitment.
Whether you're looking for some additional IT support in Oxford to complement your existing internal resource or want to hand over the full management of your IT to the experts, we can help.
How it works:
We start with a thorough assessment of your IT systems and infrastructure and complete a cyber security audit to build a full picture of your ongoing requirements.
Next, we work with you to understand your business goals, then develop an IT strategy and ongoing delivery plan to proactively support your business to improve efficiency and productivity.
Our consultancy services ensure your business has the right level of independent technical advice as well as a technology roadmap to encourage business growth. We help you make key decisions about your IT equipment and services, making sure your IT is strategically sound and, above all, provides a return on your investment.
As well as the standard proactive IT maintenance of your infrastructure and network and end-user support, we develop a business continuity plan and ongoing cyber security monitoring, detection and response service for your business.
In addition, we can tie in your telecoms, business internet and WiFi, giving you one centralised bill for everything, providing economies of scale and convenience.
We provide monthly reports on tasks and a quarterly or six-monthly review so that we can demonstrate that our partnership is benefitting your business.
A tailored service to fit your need and budget
Strategic planning for the upcoming 12-24 months and beyond
Expert strategic advice and IT consultancy
A clear understanding of your business and objectives at a senior level
Maintenance plans
Cloud services
Cyber security monitoring, detection and response
Virtual hosting
Monthly reports on tasks and quarterly or 6-monthly reviews
What Our Clients Say
"For the last 13 years, FirstLine IT have felt like space-pod's very own IT department."

Kevin Parker
SpacePod Director
Why should you work with First Line IT Oxford on Your IT Support?
It provides a good return on your investment
You'll receive a bespoke Oxford IT consultancy service and strategic advice from our Senior Leadership Team to support your business goals. This delivers a cost-effective alternative to hiring an internal IT Director or in-house IT team.
You will maximise productivity
Given the ever-changing nature of IT, Firstline IT will work proactively to keep you up-to-date with the latest IT developments, ensuring your business is operating as efficiently as possible.
You will receive support and advice from experts
Firstline IT Oxford has been working with large and small businesses since 2001, with a team of IT engineers with a broad range of expertise. When you work with us, you'll receive IT support in Oxford from our talented engineers, along with strategic advice from our Senior Leadership Team.
We'll help you achieve your business goals
We'll work with you to develop an IT strategy aligned to your business goals and put in place a technology roadmap that drives positive change.