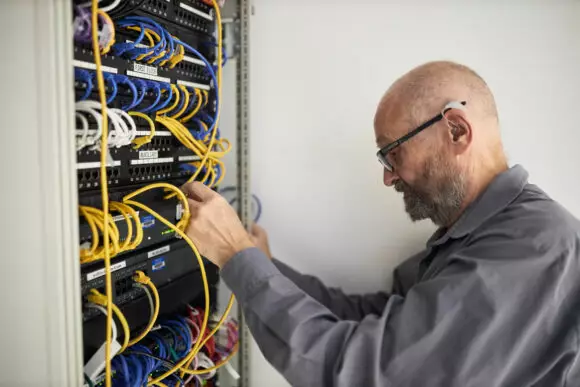 Technical IT Service in Oxfordshire
We provide a range of technical services and help you to navigate the IT world so that you can focus on growing your business.
Technical IT Solutions for Businesses
We know that when you're growing your business, you need to think carefully about where you apportion your budget as your priorities change. That's why we offer a broad range of technical services from which to choose. We will find the most appropriate technical IT advice and introduce you to the best systems available for your budget so that you can focus on your business while we take care of the rest.
Whether you want to outsource a few elements of your IT or your entire IT infrastructure, we offer a range of technical IT solutions to support your business.
How it works
Once you've identified which IT support contract is right for you, we will then discuss which elements of technical IT is most appropriate for your business.
Get to know our technical IT services
IT Helpdesk
99% of the problems referred to our helpdesk engineers are solved the same day. We can give you advice over the telephone, offer remote support, or pop out to your offices.
IT Disaster Recovery Planning
We work with you to build resilience into your IT systems, so that you can keep working through fire or flood, and recover quickly from any sort of disaster.
IT Asset Management
We can specify, source, and provide all your business hardware and software, recommending the best hardware for your budget, and handling all the installation and configuration.
Managed Hosting Services
We can design, build and manage your business network, incorporate any number of applications and software packages, host and monitor all from our very own data centre in Oxford.
IT Relocation
We manage all aspects of IT and telecoms for your office move, giving you one point of contact, one bill and one fully-integrated plan.
Office 365
We've supported clients at all stages of their journey with Office 365, handling the migration and installation across all your systems and devices.
Business WiFi
We provide guaranteed, non-contended optical-fibre internet connections at speeds of between 1Mb and 1 Gb. You can also choose from our range of dependable and cost-effective broadband solutions for small and medium-sized businesses.
Get the most appropriate technical IT advice for your business
[grw id="6755″]
Why choose Firstline IT for your Technical Services?
We use plain English
Whatever the technical service you are looking for, we will always be straight with you, and make sure you understand what you are buying and why it is important to your business and IT infrastructure.
You'll receive a responsive IT service
We don't have a "one size fits all" approach. As a small business ourselves, we understand that a personal and responsive service is key to building trust. We offer customised advice, consultancy and guidance, tailored to your business, allowing you to scale your IT Support service accordingly.
You'll receive a personalised IT package
We believe in giving every client a fair deal, so you won't get an unexpected bill from us and you will receive our best attention whenever you contact us. We get to know you and your business from the outset so that we can ensure we deliver expert IT support that's right for you.
You'll receive expert technical support
Our IT services are built on solid technical excellence developed over years of experience and training. Each of our team of engineers has their own IT specialism, which means any IT issue will be resolved quickly and effectively.
Get in Touch