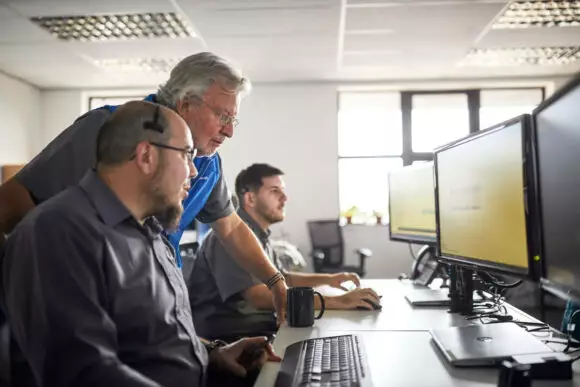 IT Disaster Recovery Planning
Your business needs a plan for when things go wrong.
As a growing business, you will need a robust business continuity strategy for your IT to ensure your critical systems stay protected.
No business is immune to disaster, whether that be an office fire, a security breach or an electrical outage. But backing up your systems isn't enough. You need the peace of mind to know that not only is your data, emails, and office server hardware safe, but that you can continue to operate while restorations take place.
How it works
We'll work with you to build resilience into your IT systems so that you can still operate through fire or floor, and receiver quickly from any kind of disaster.
As part of your monthly support plan, we'll give you analysis and advice, identifying your critical systems and the steps you need to take to protect them. We'll also conduct regular testing to ensure everything's working as it should.
We'll help you:
Identify your critical systems and advise on improvements to protect them
Develop a business continuity strategy including necessary technology to protect your IT infrastructure
Manage and maintain that infrastructure
Carry out regular testing to ensure systems in place are working.
For a free consultation with one of our experts about your IT disaster recovery planning
[grw id="6755″]
Why use Firstline IT for your Disaster Recovery Planning?
We will grow with your business
If you employ more staff, our flexible solution can be increased on a per-user basis, so that you're always getting the right level of support as you expand.
We provide a fully tested and resilient IT recovery plan
We regularly conduct a test recovery in the background while you get on with running your business. This means we know that the strategy and technology will work should the worst happen.
We have an on-site data centre
We have space for over 80 physical servers and firewalls, all with full power and connectivity. All of our clients' hosted services are also duplicated, providing additional security in the event of an Oxford-wide disaster.
No upfront costs
We provide fully managed hardware at both the server and network level. Supplied and maintained by us, there is no capital outlay for you. We charge a monthly subscription fee and keep all your systems protected.
Related services
Active Maintenance
IT maintenance contract designed for organisations without expert in-house IT support in Oxford. Fixed IT support costs a quick response to IT issues.
Strategic Partnership
Our total solution contract designed for larger organisations who have some degree of internal IT resource already, where we operate as a virtual IT director and manage all IT and telecoms on your behalf.
Cyber Security Audit
Our IT cyber security audits will assess your current security posture and give you the right information and recommendations to make the best IT security decisions for your business.
Get in Touch